I found lots of ACE Halloween freebs on my travels this week, so I'll do a few separate blogs about my finds.
First up I am going to gush so much about Minnu's group giveaway this week. These gorgeous Halloween skins were free, I frikkin love them so much - I couldn't believe my luck.
Yeah, they look wierd...but wierd is goooood!
I mean, look at the amazing detail, so unusual and freaky, yet seriously foxy!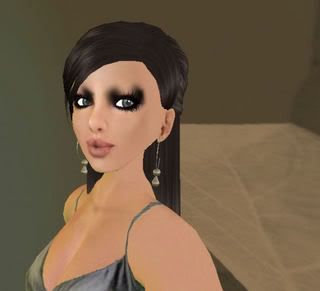 Check this one out, it's got some lovely cuts and bruises. Gruesome!!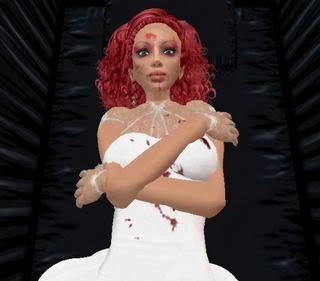 She only comes out at night, but she looks a total fright!
The hair worn in this pic was a group freebie from Bewitched, and the pretty white dress was a group freebie from Bossa Nova. I wore a blood overlay over the dress which was in a freebie box from Sh*t Happens.
This one gives Pete Burns a run for his money (that's the bloke who looks like a plastic woman singer in Dead or Alive band in the 80s, for those of you under 25). The latex catsuit was free from Kcreations, I'll blog this in my next post. The hair worn in this pic was a group freebie from Bewitched, it's called Chris Angel. When I mention 'group freebie', you have to join the store group to get the item, and the freeb will not be available for longer than 30 days (so I believe), so grab it quick when I blog it.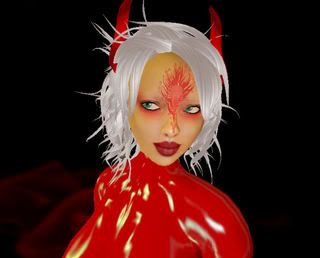 Well I think these skins rock. If and when you decide to buy a skin, Minnu skins are definitely worth investing in, in my opinion they are up there with the best skins in SL. To get these free skins you have to join the Minnu group and check back on past group notices, they are a boxed attachment to the msg and you get 5 diff skins in the box. Usually you pay 1150 L$ for Minnu skins, so grab these while you can.
*
NEWSFLASH* These skins are no longer only a group freeb, run down and grab them at Minnu's store. TP Link below.
Next, I'm in fairy mode. This skin was a group freebie from Ivalde, another group definitely worth joining. Again, check back on notice history when you join and save any attachments and they will go into your inventory recent items. Ivalde gives away freebs often and they are always sooo lovely.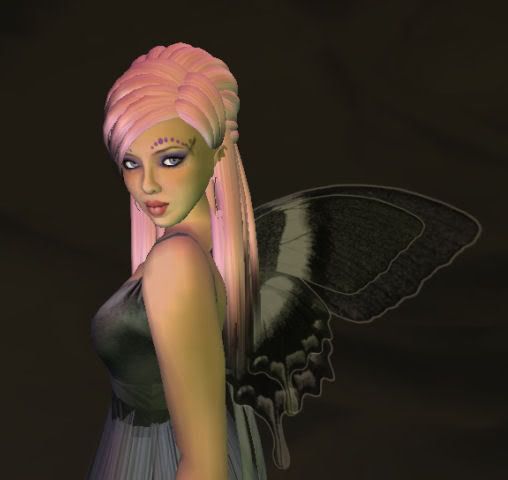 Ethereal, gorgeous....all of that, again, such a beautiful design on this skin.
I can't forget to mention this silky, floaty dress from ICING at Mischief Cove. Can you believe this was free?? It's so stunning, love the way it moves when I walk. Another tip for ya...if you have an outfit you love which is modifiable, you can change the colour. Make sure you copy it first (if it is copiable) and resave it as the new colour so you still have the original. If you need more advice on how to do this, contact me.
About everything else worn in my pics:
The long straight hair worn in most of the pics was 1L freeb called Phoebe from ETD. The style and the textures are so well made, as with all ETD hairs. We are so lucky to get this for 1L, it comes in every colour of the rainbow too.
The lavendar colour eyes were from Shapes by Zada... They've got an amazingly realistic piercing look
The cute lil wings were free from Sh*t Happens...I LOVE that store!
Earrings from Amaretto, mentioned on my previous blog.
So as you can see, we do not have to look like cheap blingtards when we wear freebs. You just have to look hard and in the right places, and luckily, I'm doing it for ya - YAY! If you find something amazing for free, let me know in game or on e-mail. Oh, and please leave comments below, let me know what you think of my blog.
Minnu :
http://slurl.com/secondlife/Glam%20World/119/136/23
ETD:
http://slurl.com/secondlife/ETD%20Isle/146/143/33
Ivalde:
http://slurl.com/secondlife/Ivalde/93/176/35
Icing:
http://slurl.com/secondlife/Mischief/119/161/25
Bossa Nova:
http://slurl.com/secondlife/Amour/185/60/27
Kcreations:
http://slurl.com/secondlife/Myeolchi/118/24/63
Sh*t Happens:
http://slurl.com/secondlife/Lions%20Shore/196/62/23
Bewitched:
http://slurl.com/secondlife/Lemon%20Island/91/125/23
Shapes by Zada:
http://slurl.com/secondlife/Triangulum/25/22/27