Well, this task isn't proving easy, finding decent freebies for men I mean. It's a girls world out there in SL, but I will make it my mission to do it for the guys!
I've come across some pretty good Halloween stuff in the past week. SL has gone Halloween crazy, so I'll get this over and done with and then watch this space to see what I come up with in future posts. Excuse me while I make myself look a total tool!
Lets start with the worst first shall we? (when I say 'worst', I mean, 'most gruesome'). Now everyone needs some dismembered appendages hanging above their head at this time of year. This body chandelier is a Halloween freebie from Grim Babies, hilarious! Go take a look at the Grim Babies sim, it's an excellent build and definitely worth exploring, especially at this time of year.
Yeah and I know I look I've crammed myself into a condom but this is actually a free guys catsuit from Kcreations (comes in various colours), please don't make me wear that again...it chaffed so bad!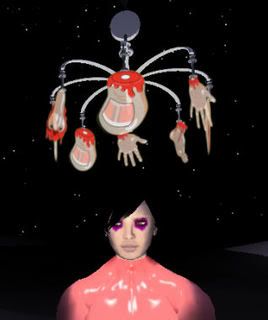 All the skins worn in this blog are a Halloween gift from Minnu, available for free in store for a limited time. The hair worn is a group gift from Truth, all you need to do is click to subscribe on the sign at the store, then click it again to check history and you should be given a folder with the hair. I've put links to all the stores mentioned at the bottom of my blog.
Next up, I found this fantastic hat and scarf combo from Gritty Kitty, it's another limited time free gift located outside the store at Koreshan. The set is actually orange but I changed the colour of the scarf, and the hat has a colour change script in it to go with any outfit.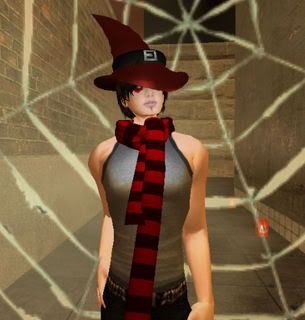 I really love this, I think I will wear it all year.
The top worn is a unisex group freebie from Iki's Dutch Touch, this is a group you really need to join, Iki often gives away unisex goodies. I love the style and quality of her clothes, I highly recommend you pay the store a visit.
On the left of the entrance when you visit the store is a box of free stuff for girls.
The tee worn below is from Aitui, another fave store of mine, it's only available for free for another couple of days so grab it quick. Even though this tee is Halloween themed, it can be worn all year round. I did a bit of dumpster diving and found these kitty ears too, once I brushed off the maggots they looked great.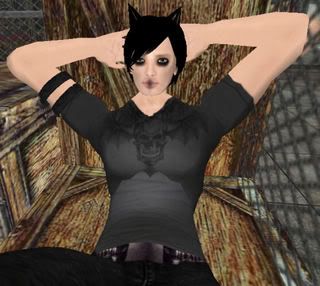 The arm straps worn are a group gift from a cool store called BroGear. I'm a sucker for armstraps and stuff, but would I wear them in RL? No way!
Shhhhhh, the pants worn are actually part of a girls free gift called Cimarron set from Pixel Dolls, they look great thought don't they? They come in loads of different colours too. Swallow your pride guys and get down to Pixel Dolls for these.
This little Skellington chap is a free Halloween gift from a cool Neko store called Faceless, you get one to sit on your head and another to hold. Very cute and cuddly don't you think? Again, the scarf worn is from Gritty Kitty but I coloured it red this time, to go with my lovely eyes.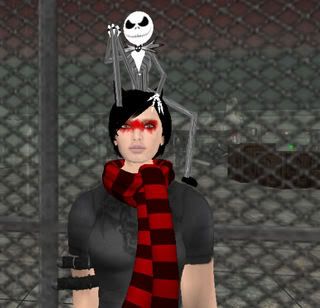 Well, I hope you enjoyed my first mens blog on this site. Quick check back to see I didn't emulate any other similar blogs out there, any similarity is purely coincidental. Great...we are good to go!! *POST*
Links in no particular order:
Aitui :
http://slurl.com/secondlife/Aitui/205/173/23
Iki's Dutch Touch :
http://slurl.com/secondlife/Willow%20Beach/54/137/29
Minnu:
http://slurl.com/secondlife/Glam%20World/101/137/24
Gritty Kitty :
http://slurl.com/secondlife/Koreshan/61/23/24
Grim Babies: http://slurl.com/secondlife/Sleepy%20Hollow/131/54/27
Faceless: http://slurl.com/secondlife/Siam/220/243/29
KCreations :
http://slurl.com/secondlife/Myeolchi/119/25/63
Truth :
http://slurl.com/secondlife/Mystikal/201/121/28
Pixel Dolls:
http://slurl.com/secondlife/Port%20Seraphine/40/143/27
BroGear:
http://slurl.com/secondlife/Isle%20of%20Tharen/42/169/33