Yo! skim read past this bit....I feel like having a rant.

WOW!! I've seen the dark side of blogging already, I seem to have stepped into some kind of competitive blogging realm. Yep, I've been accused of 'copying' someone elses blog because I innocently used her catchwords , 'fab' and 'free' in my first post. Anyway, just so you know, when I wrote my first post I had never even seen this person's blog. Of course, we will occasionally show the same items, there is only so much out there and I'm not going out of my way to avoid doing that. If I like it, I will write about it.
Having read the blog, her dress style and writing style is completely different from mine. Don't get me wrong, it's great - very informative and helpful lots of content (I have included a link on my page, it's worth checking out). I will also try to find out about any other sites which write about free stuff in Second Life and include links, if you know of any send me the link please.
I use my
Free*Style Group
in-game to inform of any cool freebies in Second Life, I don't have time to blog everything so I send notecards in-game at the time of discovery. This Free*Style blog is purely a bit of fun to show our favourite outfits and how we put them together, to show that you can look stylish for free (or nearly free).
If you wish to join the group just type in FREE STYLE into search and it should come up. If you can't find it, IM me or leave your name in the comment below and I'll add you.
Anyway, my last comment on this matter is SL is just for fun and it's a free world! Some people should get over themselves and stop taking things so seriously.. HOOOOOOOOOOOOOOO! (my God, I should say that to myself sometimes, LOL!)
Now it's time to show you my latest pretty finds.
This outfit is from a lovely store called Amaretto, it comes complete with jewellery and a pose which made my head go backwards when I moved my mouse. It was quite amusing for about 5 minutes, SL was being a bitch today as many of you will know.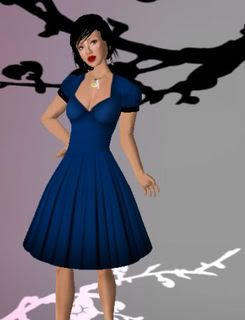 The skin I am wearing is a group freebie from Minnu, only available for a limited time so join this group if you haven't already. My hair is called Juliet from Gurl 6, I got this with my voucher for new players under 30 days old, so this will only be free if you use a voucher *NEWSFLASH* Gurl 6 has some free hair for Halloween. I haven't been able to get it because I can hardly move in SL today, but i've put the LM at the bottom of this post so you can go take a look. This necklace is 1L from another fave store of mine called Boing Fromage, lots of cute quirky,unusual clothes in her store.
Check out these foxy shoes, ooooh!!!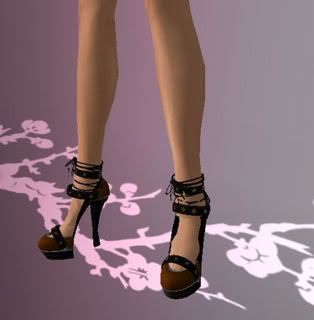 Again these are a group gift from a store called Next Step, if you want to get these join the group quick, they are only in the notice archive for 30 days and I think they where posted at the beginning of the month. Also I just noticed there are some lovely shoes at Next Step for 11L, 20L and 50L, the link to tp direct to them is at the bottom of this post

This next outfit is a cute casual look, the top was a Halloween freebie from a store called Fetch, if you join Fashion Consolidated Group, you will get the notice about this one. A nice little addition to everyone's wardrobe.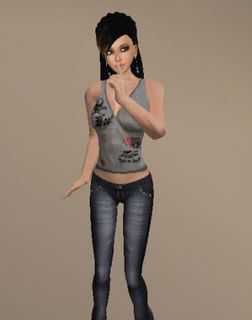 These are 1L skinny jeans from G.L.A.M. This sim is closed for rebuild at the moment so I will put the link in later, I'm sure it will be back up and running in a couple of days. They have a couple of boxes of great clothes and accessories for guys and girls for 1L. I love the fit of these jeans, they make my virtual butt look so peachy. These AMAZING wedge shoes are a group gift from Maitreya, join the group and grab them quick before they are gone.


This gorgeous skin is group giveaway from Blowpop, it's really pretty with smokey eyes and light glossy lips, (also if you join this group you can get another one of the Blowpop skins for only 49L!) I am so happy that stores are giving away great skin these days, I wish more stores would do it for the guys too, but I suppose it doesn't make sense as guys don't change their skins as often...ho-hum! My hair is the lovely 1L Phoebe hair from ETD, which tends to star in most of my posts.

Amaretto: http://slurl.com/secondlife/Isla%20Violeta/160/201/27
Blowpop: http://slurl.com/secondlife/Boudoir%20Isle/209/24/23
Boing Fromage: http://slurl.com/secondlife/Overdrive%20Island/167/140/37
ETD: http://slurl.com/secondlife/ETD%20Isle/146/143/33
Gurl 6: http://slurl.com/secondlife/GuRLyWood/111/111/23
Maitreya: http://slurl.com/secondlife/Superieure/94/44/451
Next Step: http://slurl.com/secondlife/Envy/18/185/23